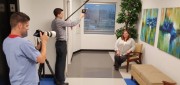 LUMBERTON, TX , March 28, 2016 (Newswire.com) - Altus Emergency Centers, led by Chairman & CEO Taseer Badar of ZT Wealth, is pleased to have launched their new health segment – "Altus Answers" – on YouTube, Facebook and other Internet-based platforms.
"Altus Answers" focuses on quick, one-minute clips highlighting health tips and services inside Altus ERs. Recently, they began branching out to highlight other Altus Health entities such as Altus Cancer Center (pictured).
Recent segments have included topics such as the symptoms of cardiac disease, various causes for abdominal pain, dangerous reasons behind some headaches, and an explanation of Zika virus. ER-related segments include the introduction of Patient Advocate Kam Polnick, who introduces patients on the Patient Advocate process and what it means to have that resource available to them.
"Altus Answers" can be found on the Altus Emergency Centers Facebook page, YouTube Channel and website.
About Altus Emergency Centers:
A leading provider in high-quality emergency healthcare, Altus Emergency Center currently operates successful freestanding emergency rooms in Baytown, Lake Jackson and Lumberton; with new centers opening in Lufkin and Waxahachie later this year. Every Altus Emergency Center is equipped with first-class equipment, including X-ray, CT scans and a diagnostic lab on-site. With physicians and nurses trained in emergency medicine, each Altus team is highly efficient in treating chest and abdominal pains, pediatric emergencies, flu symptoms, sports injuries, bone breaks and fractures, as well as all other major and minor injuries. All services are available 24/7, including weekends and holidays.
For more information on Altus Emergency Centers, visit www.altusemergency.com.
About Altus Health:
Headquartered in Pearland, Texas, Altus Health was established in 2004 by a network of vested, forward-thinking physicians dedicated to providing the highest quality patient care at the most affordable cost. Since its inception, Altus Health has grown to a network of more than 1,600 physicians with facilities across Texas and Nevada that include a surgical hospital, surgical centers, cancer centers, imaging centers, sleep centers, inpatient and outpatient hospice care and freestanding emergency centers. Altus Health continues to push the frontier of healthcare services by developing innovative solutions for physicians, patients and communities. For more information, visit www.altushealthsystem.com.
Share: