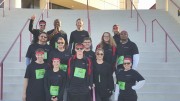 LUMBERTON, TX , March 25, 2016 (Newswire.com) - Altus ER staff encourages community to 'Chose Well' by joining local 5Ks
Altus Health, led by Chairman & CEO Taseer Badar of ZT Wealth, has always encouraged its respective communities to 'Live Well,' but its emergency center staff has taken that to a new level in 2016 by competing in numerous 5Ks.
Sporting shirts with the 2016 theme "When It's More Than Urgent," members of the Regional Team joined hundreds of others to participate in the seventh annual Gusher Marathon, Half-Marathon and 5K on February 27 in Beaumont. On March 12, the team also competed in the third annual Snow Run and Walk 5K, also in Beaumont, which served as a fundraiser for the Ulcerative Colitis Foundation of America. Members of the Baytown ER staff also participated in the Jail Break Run on February 20.
About Altus Emergency Centers:
A leading provider in high-quality emergency healthcare, Altus Emergency Center currently operates successful freestanding emergency rooms in Baytown, Lake Jackson and Lumberton; with new centers opening in Lufkin and Waxahachie later this year. Every Altus Emergency Center is equipped with first-class equipment, including X-ray, CT scans and a diagnostic lab on-site. With physicians and nurses trained in emergency medicine, each Altus team is highly efficient in treating chest and abdominal pains, pediatric emergencies, flu symptoms, sports injuries, bone breaks and fractures, as well as all other major and minor injuries. All services are available 24/7, including weekends and holidays.
About Altus Health:
Headquartered in Pearland, Texas, Altus Health was established in 2004 by a network of vested, forward-thinking physicians dedicated to providing the highest quality patient care at the most affordable cost. Since its inception, Altus Health has grown to a network of more than 1,600 physicians with facilities across Texas and Nevada that include a surgical hospital, surgical centers, cancer centers, imaging centers, sleep centers, inpatient and outpatient hospice care and freestanding emergency centers. Altus Health continues to push the frontier of healthcare services by developing innovative solutions for physicians, patients and communities. For more information, visit www.altushealthsystem.com.
Share: