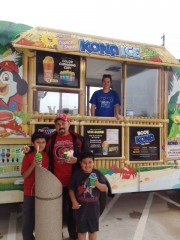 LAKE JACKSON, TX , March 25, 2016 (Newswire.com) - As students celebrated a long-awaited Spring Break, Altus Emergency Centers, led by Chairman & CEO Taseer Badar of ZT Wealth, joined in the fun by offering free snow cones!
Despite the rainy weather, Lake Jackson-area families gathered in the parking lot of the facility on March 8 to enjoy free treats. Kona Ice reports nearly 100 snowcones were passed out that day.
"Each Altus Emergency Center location gives back to the very communities that have gone above and beyond in supporting us throughout the years," said Garrett Syphrett, Vice President of Operations and Development. "All three Altus Emergency Centers hosted a Snow Cone Day during their respective school's Spring Breaks, offering free snow cones to both children and adults."
In addition to the three facilities in Lumberton, Baytown and Lake Jackson; Altus Emergency Centers, a leading provider in high-quality emergency healthcare, is opening a Lufkin location this summer and a Waxahachie facility in winter.
About Altus Emergency Centers:
A leading provider in high-quality emergency healthcare, Altus Emergency Center currently operates successful freestanding emergency rooms in Baytown, Lake Jackson and Lumberton; with new centers opening in Lufkin and Waxahachie later this year. Every Altus Emergency Center is equipped with first-class equipment, including X-ray, CT scans and a diagnostic lab on-site. With physicians and nurses trained in emergency medicine, each Altus team is highly efficient in treating chest and abdominal pains, pediatric emergencies, flu symptoms, sports injuries, bone breaks and fractures, as well as all other major and minor injuries. All services are available 24/7, including weekends and holidays.
For more information on Altus Emergency Centers, visit www.altusemergency.com.
About Altus Health:
Headquartered in Pearland, Texas, Altus Health was established in 2004 by a network of vested, forward-thinking physicians dedicated to providing the highest quality patient care at the most affordable cost. Since its inception, Altus Health has grown to a network of more than 1,600 physicians with facilities across Texas and Nevada that include a surgical hospital, surgical centers, cancer centers, imaging centers, sleep centers, inpatient and outpatient hospice care and freestanding emergency centers. Altus Health continues to push the frontier of healthcare services by developing innovative solutions for physicians, patients and communities. For more information, visit www.altushealthsystem.com.
Share: