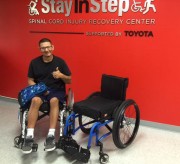 Houston, TX , March 25, 2016 (Newswire.com) - The Altus Foundation, founded in 2011 by Chairman & CEO Taseer Badar of ZT Wealth, has helped hundreds of individuals get the treatment and health care they need. Most recently, the Foundation is pleased to share its support for Stay in Step, a nonprofit recovery center that provides state-of-the-art recovery to spinal cord injury patients, both military and civilian.
The Foundation provided a new wheel chair to Armando, which will help with his mobility and rehabilitation process. For Armando, the donation from the Altus Foundation was a blessing for other reasons. His family knew that a specially customized wheelchair was essential for Armando to have reasonable quality of living, but the cost of the wheelchair was going to put the family in a debilitating financial situation. With only one source of revenue coming into the household, the family was left with very limited financial resources. The support of the Altus Foundation not only provided Armando with the ability to move comfortably, safely, and without pain, but helped the family avoid a debilitating financial situation.
"Our goal at the Altus Foundation is to provide resources that make a difference in the lives of others," said Taseer Badar, CEO of ZT Wealth and Altus Foundation board member. "We couldn't be happier to support a wonderful organization like Stay in Step and empower people like Armando on the road to recovery."
For more information on The Altus Foundation, visit www.altusfoundation.org.
About Altus Health:
Headquartered in Pearland, Texas, Altus Health was established in 2004 by a network of vested, forward-thinking physicians dedicated to providing the highest quality patient care at the most affordable cost. Since its inception, Altus Health has grown to a network of more than 1,600 physicians with facilities across Texas and Nevada that include a surgical hospital, surgical centers, cancer centers, imaging centers, sleep centers, inpatient and outpatient hospice care and freestanding emergency centers. Altus Health continues to push the frontier of healthcare services by developing innovative solutions for physicians, patients and communities. For more information, visit www.altushealthsystem.com.
Share: