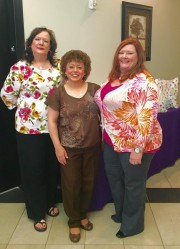 BEAUMONT, TX , March 28, 2016 (Newswire.com) - Members of Woodland Baptist Church in Beaumont opened their hearts at Altus Cancer Center, led by Chairman & CEO Taseer Badar of ZT Wealth, Wednesday, offering up prayer, hope and fellowship to patients.​
Church members also brought Easter bags to the patients, which were filled with spiritual goodies.
The team at Altus Cancer Center Beaumont would like to thank the members of Woodland and all who volunteer time at our center for their thoughtfulness toward the patients we feel are family.
About Altus Cancer Centers:
Altus Cancer Centers are led by teams of highly-skilled medical oncologists and radiation oncologists, offering the latest diagnostic technologies and advanced therapies while also providing the emotional support and resources patients and families need to make informed care decisions. With centers in Beaumont and Baytown, the staff offers patients a convenient and comfortable choice for state-of-the-art cancer care close to home.
About Altus Health:
Headquartered in Pearland, Texas, Altus Health was established in 2004 by a network of vested, forward-thinking physicians dedicated to providing the highest quality patient care at the most affordable cost. Since its inception, Altus Health has grown to a network of more than 1,600 physicians with facilities across Texas and Nevada that include a surgical hospital, surgical centers, cancer centers, imaging centers, sleep centers, inpatient and outpatient hospice care and freestanding emergency centers. Altus Health continues to push the frontier of healthcare services by developing innovative solutions for physicians, patients and communities. For more information, visit www.altushealthsystem.com.
Share: