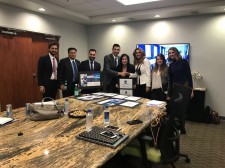 In collaboration with Versa Creative, a Houston-based marketing agency, ZT Wealth has recently rebranded in light of their recent growth and expansion plans
HOUSTON, January 19, 2018 (Newswire.com) - Versa Creative is proud to announce their successful rebranding of ZT Wealth, a wealth management firm, which was announced at the Toast to Living Well Gala this past December.
Once known as ZT Wealth, the financial empire firm will be now known as ZT Corporate. For the past 20 years, this powerhouse corporation has established new standards of excellence in the markets they serve. As they set their sights on the future, they have diversified in the various industries, including healthcare (Altus Health), automobile dealerships (ZT Motors), sports agencies (ZT Sports), multi-family real estate (ZT Real Estate Fund L.P.) and fast food restaurants (ZT Quick Service Restaurants Fund). ZT Corporate has become their flagship brand and serves to unite these entities in a powerful and progressive manner.
The grand announcement was made at the Toast to Living Well Gala in downtown Houston, which is an annual event dedicated to raising funds for the Altus Foundation to help provide crucial medical services to those in need. Taseer Badar, the corporation's CEO, delivered the news himself along with a vibrant announcement trailer that recapped the company's prosperous history and showcased the new logo assets.
Versa Creative, a Houston advertising and marketing agency, worked closely with ZT Corporate to align their vision for the future with a brand that's telling of their culture and dynamic partnerships. These exciting new assets were the result of seamless team efforts to develop a brand that would serve as a vehicle for the company's vast ambitions. ZT Corporate encapsulates the collective values of the corporation since its founding in 1997. The logo also reflects these values and showcases a sleek and powerful icon that's worthy of the ZT Corporate name.
Mary Shekari, the founder and principal of Versa Creative, offered her insights on these significant developments: "We are honored to have the opportunity to collaborate with such an iconic financial firm. For over 20 years, they have helped shape the wealth management industry and we were proud to contribute to their virtuous legacy."
Please watch this space for more updates on these developments.
About ZT Corporate
ZT Corporate is an innovative full-service wealth management firm which offers opportunities for private equity investments. Their entities operate under skilled management teams, with ZT having oversight as a mandate of their funding vehicles. With offices based in Houston, Texas, and New York City, they provide specialized financial solutions and create value for client-partners through a broad range of financial channels.
About Versa Creative
Versa Creative is a full-service advertising and marketing agency that provides branding, strategy, digital and traditional media and web services. With their talented team, Versa is in the business of building powerful brands with passion and purpose.
Media Assets
ztcorporate.com
altusfoundation.com
altushealthsystem.com
versacreative.com
Source: Versa Creative
Share: