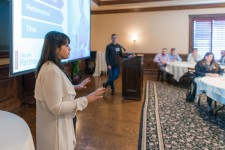 A seminar on exclusive digital opportunities!
HOUSTON, TX, March 20, 2017 (Newswire.com) - Versa Creative, founded by Mary Shekari, recently hosted an educational seminar at Maggiano's Little Italy alongside a team of Google digital experts. As part of their goal to educate valued business partners on exclusive growth opportunities through digital marketing services, Versa and Google showcased an informative presentation on the future of online marketing. Over 80 individuals were in attendance from various industries, including healthcare, retail, and real estate.
Flown in from New York City, the key contributors of this presentation were delivered by Google's agency development manager and account strategist. By highlighting online consumer patterns and exciting new marketing opportunities, they were able to detail how businesses can become more accessible and relevant in the daily lives of their consumers. In addition, Versa Creative nominated eight key clients for Google's in-depth digital services. This exclusive benefit allows a day-by-day analysis of their accounts and industry to yield additional digital strategies.
Due to Versa Creative's Premium Partnership with Google, we were able to offer an exclusive presentation to our valued business partners on innovative digital marketing opportunities. I am honored to have taken part in such a significant event, for it outlined the future of digital marketing as we know it. I'd also like to thank our friends at Google for teaming up with us to deliver such an impactful presentation.

Mary Shekari, Founder & Principal
Due to Versa Creative's Premium Partnership with Google, which is the highest honor for agencies, they're able to offer businesses a leading edge in their marketing efforts. According to Google, "The Google Premier Badge recognizes companies that excel with Google products. The Premier Badge is reserved only for agencies that surpass our highest requirements. They are product experts, diversified in their knowledge, and use only the best practices for their clients."
The development of this event was managed by Velina Kara, Vice President of Business Development, and coordinated by Hilary Zanoni, Traffic Manager. If you'd like to learn more about this event and the opportunities discussed, contact Versa Creative at info@versacreativegroup.com or call (832) 831-7590.
About Versa Creative:
Versa Creative is a full-service advertising and marketing agency that provides branding, strategy, digital and traditional media, and web services. With their talented team, Versa is in the business of building powerful brands with passion and purpose.
Source: Versa Creative
Share: